Alter/native Body Wash - Tea Tree & Aloe Vera (500ml refill)
0 Reviews
raiting star
raiting star
raiting star
raiting star
raiting star
Be the first to review this product.
Alter/native Body Wash - Tea Tree & Aloe Vera (500ml refill)
Treat your skin. Antiseptic tea tree nourishing aloe vera and lemon & lime oil combine to leave your skin feeling happy and hydrated.  Our cruelty-free body care range is created using the natural powers of plants that love your skin and respect our planet.
Refreshing with lemongrass.
Product tabs
Click & Collect | Delivery Information

Click & Collect - Yes

This product is available to click and collect. Choose your loop bottle requirements...

Exchange: Choose this if you are returning your empty loop bottle when you come to collect your order.

Or

Aluminium Bottle Required: Choose this option and we will provide a filled 500ml aluminium loop bottle complete with pump dispenser. Once empty return it to us in exchange for another 500ml aluminium loop bottle. A £2.00 deposit is required.




Local Delivery - Yes

This product is available for local delivery subject to our checking your address during checkout. It will be delivered in a 500ml aluminium loop bottle.

Mail Order - No

This product is not available for postal delivery.

Notes:

For hygiene reasons we only deliver liquids in, and accept liquids, in our own 500ml aluminium loop bottles.
All exchanged loop bottles are thoroughly cleaned and sanitised in store.
Exchanged loop bottles may show signs of use.
When purchasing in store you can bring your own containers and fill them with any quantity you choose.

Allergens, Ingredients & Nutritional Information

Ingredients: 

Aqua ammonium lauryl sulphate* lauryl glucoside** citric acid sodium chloride sodium benzoate aloe barbadensis (aloe vera) leaf juice parfum melaleuca alternifolia (tea tree) oil citrus aurantifolia (lime) oil lemongrass bhutan oil alpha isomethyl ionone citral citronellol coumarin eugenol geraniol limonene linalool *derived from coconut/sustainably sourced palm **plant derived 

Allergy Information:

For allergens, see ingredients highlighted in bold in the ingredients list. 

Quality Information: 

Free from Parabens SLS and SLES. Vegan BUAV approved Cruelty-free
Recommend this product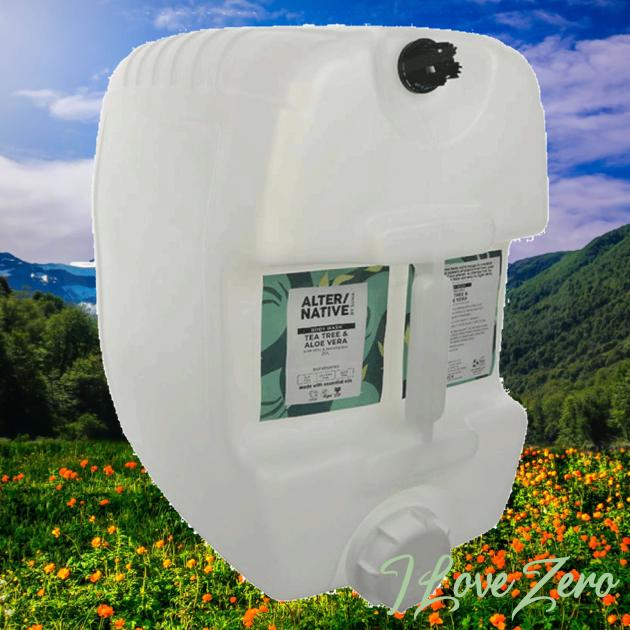 Alter/native Body Wash - Tea Tree & Aloe Vera (500ml refill)