Breakfast Muffins - Recipe In A Bag
0 Reviews
raiting star
raiting star
raiting star
raiting star
raiting star
Be the first to review this product.
Breakfast Muffins - Recipe In A Bag
These are a tasty and nutritious breakfast muffin or just a healthier muffin choice for a snack or treat. 
We have made these with a square of dark chocolate pushed inside for a touch of decadence. 
Keep an eye that your topping does not burn as it's baking.
Ingredients
 Bag 1

100g muesli base.
50g light brown sugar.
160g plain flour.
1 tsp baking powder.
Pinch of cinnamon & ginger.


Bag 2

4 tbsp demerara sugar.
50g muesli base.
50g pecan nuts- roughly chopped.

 From I Love Zero

2 tbs rapeseed oil.

3 tbs peanut butter

250ml soya milk


From your cupboard

1 large apple - peeled and grated.
Muffin tray / muffin cases.




Makes approximately 12 muffins.




 Method
Heat the oven to 200c (or 180c for a fan oven).
Line your muffin tin with your cases. (We use silicone cases which was easier for taking the muffins out)
Place contents of bag 1 in a bowl.
Pour the milk, oil, apple and 2 tbsp peanut butter into a jug and mix.
Add the milk and oil mix into the dry ingredients in the bowl and mix well together.
Divide equally between your muffin cases.
Place bag 2 into a bowl and mix with a tbsp of peanut butter.
Spoon this mixture on top of each muffin. (Push pecans into the mix to avoid them burning.)
Bake for 20-25 minutes or until the muffins are golden and risen.
 The muffins will keep for 2-3 days in an airtight container.
They can be frozen and then warmed up in the oven before serving.
Note: Purchase includes Bagged Ingredients only
Recommend this product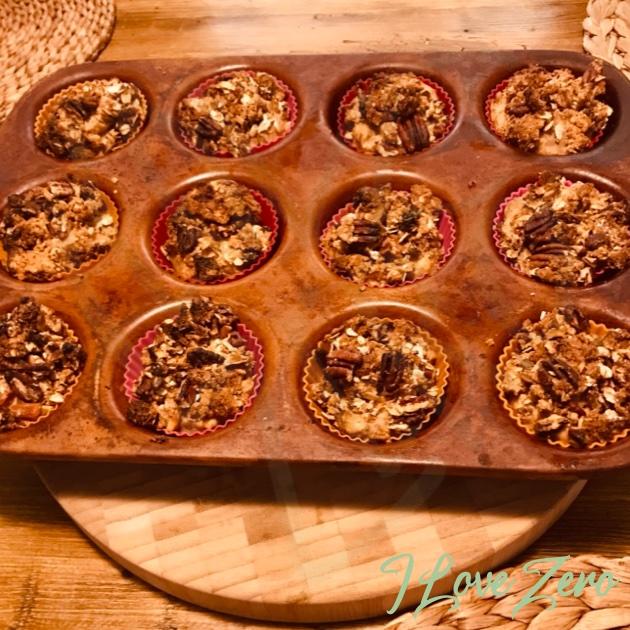 Breakfast Muffins - Recipe In A Bag