Cloudy Apple Juice - Cold Pressed
0 Reviews
raiting star
raiting star
raiting star
raiting star
raiting star
Be the first to review this product.
Cloudy Apple Juice - Cold Pressed
The juice is manufactured from a blend of English Apples sourced in Yorkshire which are washed and cold pressed. A very small quantity of Ascorbic Acid, (Vitamin C), is added which stops the juice from discolouring. The juice is then allowed to settle before it is bottled, capped and pasteurised by an electronically controlled process. 
Batches of Yorkshire Blend Juice are made when the fruit becomes available, so there are differences in taste between the batches, depending on what apples made the juice. The table below shows where the fruit for each batch of juice came from. 
The juice contains natural particles of fruit and spices which will settle on standing. It should be shaken well before serving. The juice contains no preservatives, colourings or sweeteners. All sugars in the juice are naturally derived. There is no added sugar. 
Once opened, juice should be refrigerated and consumed within 3 days of opening. This juice is best served warm! 
The juice has an 18 month shelf life from date of manufacture.
Product tabs
Click & Collect | Delivery Information

Click & Collect - Yes

This product is available to click and collect.

Local Delivery - Yes

This product is available for local delivery subject to our checking your address during checkout.

Mail Order - Yes

This product is available for postal delivery. 
Recommend this product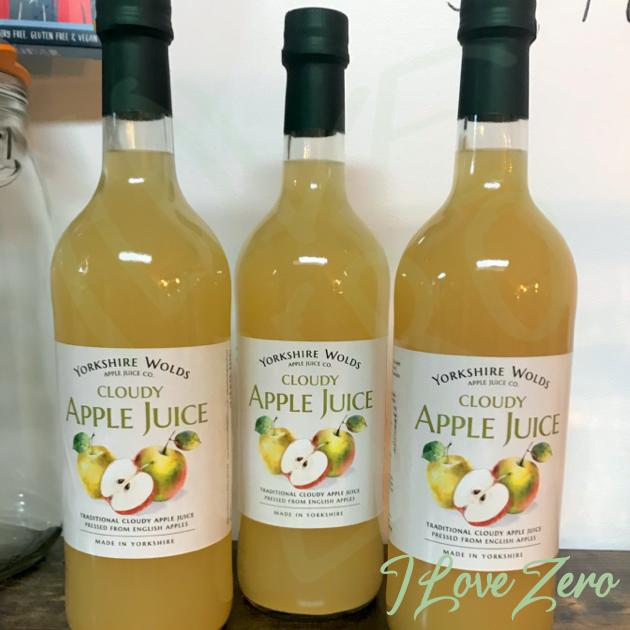 Cloudy Apple Juice - Cold Pressed