Coconut Oil Soap Bar 100g
1 Review
raiting star
raiting star
raiting star
raiting star
raiting star
Great foam from this soap and properly cleansing. Also works for shaving, shampooing as well. Compostable wrap nice!
raiting star
raiting star
raiting star
raiting star
raiting star
Coconut Oil Soap Bar 100g
100% Vegan Soap with zero-waste compostable wrap, made using a traditional cold-process method to kill germs and viruses while at the same time moisturising the skin. 
Consists solely of 100% pure, coconut-derived, naturally alkaline Sodium Cocoate. This really is the simplest and purest soap of any kind that you will ever find, and it's cold-processed to form a bar that showcases the moisturising properties of virgin coconut oil. 
Any soap is only as good as its base oil, so it's no surprise that a soap made from cold-pressed fresh picked coconuts would result in something special. 
Thick and creamy bubbles are the hallmark of our virgin coconut oil soap bars due to the natural foaming properties of coconut oil during the soap making process. 
Mild enough to use on the face and with a velvety foam rich enough for washing hair. You'll notice that the soap washes off easily and leaves no drying alkali residue after rinsing. 
Showcases the moisturising properties of virgin coconut oil with a luxurious creamy lather. 
Contains no inert ingredients - enzymes, alcohol, lanolins, parfum, or antibacterial chemicals. 
Each bar is wrapped and sealed for lasting freshness. 
Hand-crafted in small batches, natural Cold Process soap is cured for 6-8 weeks. This means they are available in limited quantities only. 
What's special about this soap? 
1. Palm-Oil Free and Vegan 
2. Made with unrefined Virgin Coconut Oil 
3. Fragrance-free and additive-free 
4. Naturally high in Lauric acid for a rich lather and moisturisation 
Like all the soaps we sell this soap contains no palm oil. The base fat is virgin coconut oil with no other oils added. 
Lauric acid has long been recognised for the unique properties it brings to the production of soaps and high-end cosmetics. Because our virgin coconut oil has a 50% Lauric acid content it provides the perfect base oil. Known to have revitalising properties for the skin - containing antioxidants and phytonutrients, our virgin coconut oil is cold-pressed and has a Lauric Acid content of 50% to help soften the skin, preventing dryness and flaking. Suitable for cleansing face and body to leave a healthy glow. 
Useful for: Sensitive skin and frequent washers - virgin coconut oil moisturising qualities means this soap will not dry your skin like other soaps can. Fewer ingredients (just one!) means no reaction to additives because there aren't any.
Hand made in small batches 
Saponified virgin coconut oil, nothing else 
Absolutely pure - no artificial colour, fragrance, foamer, preservatives, petroleum or animal products 
Soap is natural and the colour may change over time 
Unscented - these soaps have no scent at all. The aroma of the virgin coconut oil naturally dissipates during the soap-making process, leaving the bar scent-free. No other scent is added. 
Cleanses And Moisturises In One Go 
The soap formula has an added amount of virgin coconut oil to moisturise the skin during cleansing. 
The oil of fresh-picked coconuts is saponified using the traditional soap making method of fat and lye to make the soap. After the soap cures over a six week period, just one ingredient remains - saponified virgin coconut oil. The secret to making this one-ingredient soap is that virgin coconut oil takes very well to a process called "superfatting" which means that a generous amount of our virgin coconut oil is used in the soap-making process, resulting in an extra-moisturising, rich-lathering soap. Prepare to order more once you have experienced the purity and rich velvety foam. 
100% Vegan. Compostable wrap. Contains No Parabens, No Animal products, No Petroleum. No Palm Oil.
Recommend this product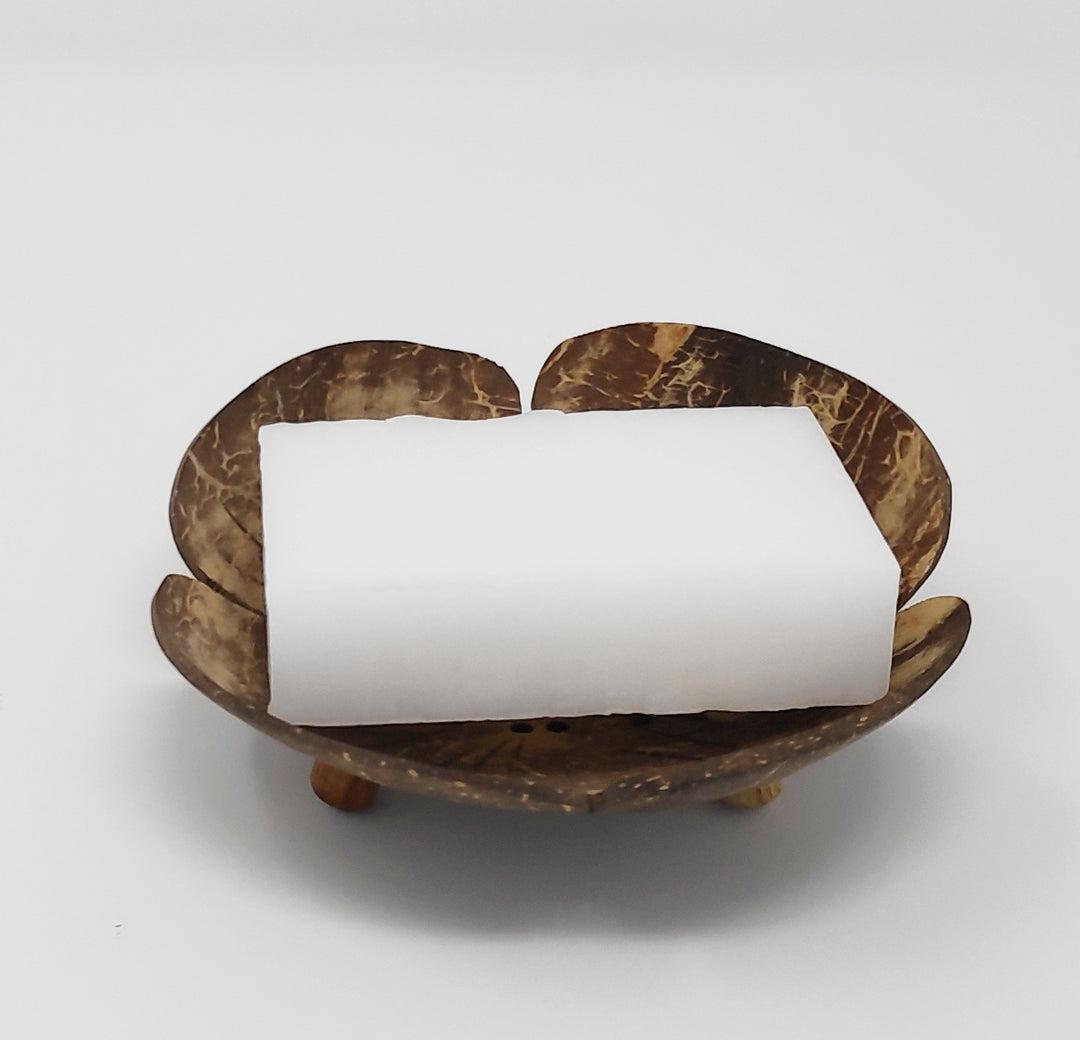 Coconut Oil Soap Bar 100g