Energy Balls - Recipe In A Bag
0 Reviews
raiting star
raiting star
raiting star
raiting star
raiting star
Be the first to review this product.
Energy Balls - Recipe In A Bag
There are lots of variations on energy balls. These are ones I first started making when I was doing a lot of running and exercise. They are great way to refuel and a healthy snack. Careful though, they are very tasty but quite high in calories.  :)
Ingredients



Bag 1 - 100g cashew nuts

Bag 2 - 100g dates

Bag 3 - 50g desiccated coconut

Bag 4 - Pinch of cinnamon & Pinch of ginger

From I Love Zero

 

2 tbs coconut oil.

3 tbs agave syrup.


Makes approximately 16 energy balls


Method
Using a food processor (or a rolling pin) blend the cashew nuts (Bag 1) until they are a mixture of tiny pieces and powder. Put into a bowl.
Place the dates (Bag 2) into a blender and break down into small pieces.
Melt the coconut oil in a pan or in the microwave. Stir in the agave.
Pour the coconut oil and agave mixture over the dates and add Bag 4. Blend to make a paste.
Tip date mixture into cashew nuts, add half of the desiccated coconut (Bag 3). Stir to combine all the ingredients. It needs to be sticky and make a "dough" when pushed between your fingers.
Place the rest of the desiccated coconut on a plate.
Scoop the dough by heaping tablespoons, then roll between your hands to form balls.
Roll the ball lightly in the coconut.
Arrange them on a baking sheet lined with parchment paper.
 Place in the fridge or freezer to set for at least 30 minutes before serving.
Store the balls in a sealed container in the fridge for up to a week.
They are suitable for freezing so you could keep some in the freezer for an even longer shelf life.
Note: Purchase includes Bagged Ingredients only
Recommend this product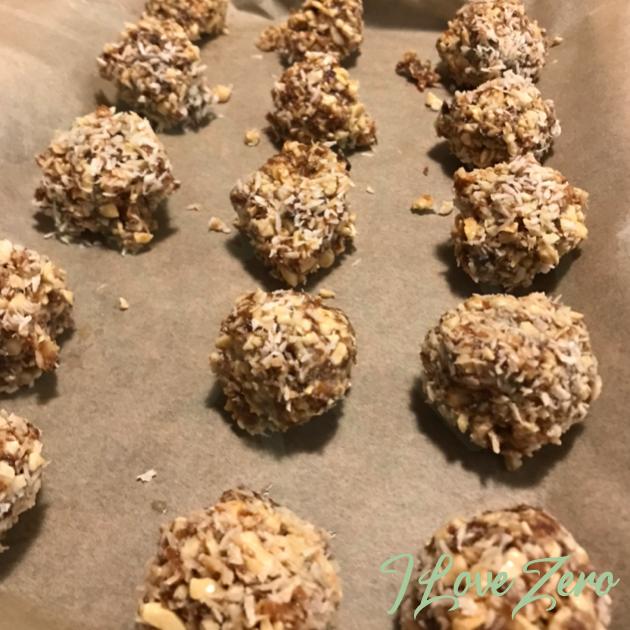 Energy Balls - Recipe In A Bag