Granola - Recipe In A Bag
1 Review
raiting star
raiting star
raiting star
raiting star
raiting star
This is the nicest granola I've ever had
raiting star
raiting star
raiting star
raiting star
raiting star
Granola - Recipe In A Bag
Granola is one of those easy to make, yet tasty breakfast or snack foods, that consists of several ingredients that have been coated in yummy sweetness and baked until scrummy. Well that's our technical description :)
Ingredients



Bag 1

 

150g porridge oats.
50g pumpkin seeds.
50g sunflower seeds.
Pinch of cinnamon.
Pinch of ginger.
Hazelnuts.
Californian Almonds.

From I Love Zero

 

2 tbs coconut oil.

3 tbs agave syrup.


Makes approximately 350g to 400g

Method
Preheat oven to 160C.
Place the contents of bag 1 into a bowl.
Melt the coconut oil in a pan or in the microwave. Stir in the agave. (Photo 1).
Pour the coconut oil and agave mixture over the granola mixture and stir well, covering it evenly.
Spread the granola mixture evenly on baking parchment on a baking tray. (Photo 2).
Place the baking tray on the middle shelf of the oven for 25 minutes.
Keep a check that granola mixture isn't burning. After 15 minutes break mixture up a little and put back in the oven.
After 25 minutes granola should be golden brown.
Take out of oven and allow to cool. (Photo 3).
Once cooled break the granola up and put into an airtight container.
Granola should keep for up to two weeks (if it isn't eaten before then).
You can be as adventurous as you like adding different nuts and seeds. Try adding dried fruit but add this after you have cooked the granola as the dried fruit will burn in the oven.
Click here to view some of our dried fruit options here
Note: Purchase includes Bagged Ingredients only
Recommend this product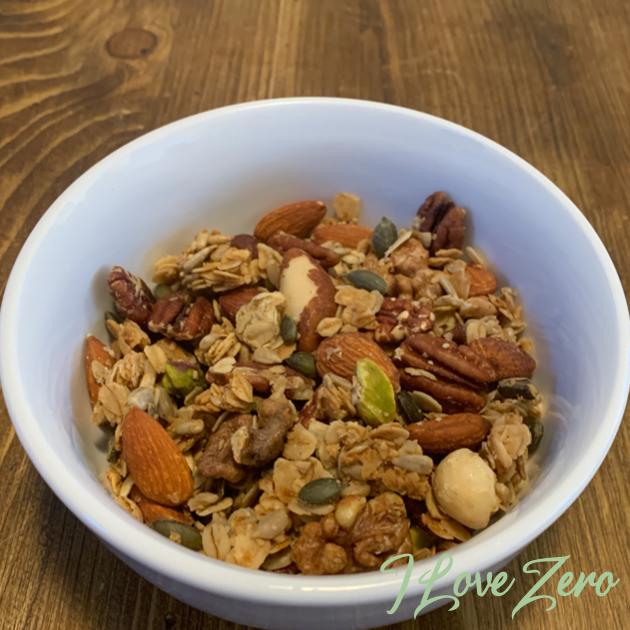 Granola - Recipe In A Bag