Granulated White Sugar - Organic 200g
0 Reviews
raiting star
raiting star
raiting star
raiting star
raiting star
Be the first to review this product.
Granulated White Sugar - Organic 200g
Organic White Cane Sugar - One of life's essentials but Organic.
The only notable difference between organic cane sugar and regular sugar is that organic sugar is grown using organic farming methods. This means its better for the soil, the environment and the many insects that live in and around the sugar cane fields.
Both forms of sugar are refined and are therefore identical in terms of their chemical composition, are made of sucrose, and create the same response in the body.
BUY IN MULTIPLES OF 200G
Product tabs
Click & Collect | Delivery Information

Click & Collect - Yes

This product is available to click and collect.

Mail Order - Yes

This product is available for postal delivery.

Allergens, Ingredients & Nutritional Information

Allergens

Gluten: This product doesn't contain any gluten containing ingredients, however is packed on a premises that handles gluten containing products.
Nuts: This product doesn't contain any nuts, however is packed on a premises that handles nuts and nut containing products.
Peanuts: This product doesn't contain any peanuts, however is packed on a premises that handles peanuts and peanut containing products.
Sesame Seeds: This product doesn't contain any sesame seeds, however is packed on a premises that handles sesame seeds and sesame seed containing products.
Soya: This product doesn't contain any Soya, however is packed on a premises that handles Soya containing products.
Sulphur dioxide: This product doesn't contain any Sulphur Dioxide, however is packed on a premises that handles Sulphur dioxide containing products.

Ingredients:

Granulated Organic sugar

Nutritional Values (per 100g)

Typical Values

per 100g

Energy

400 kcal

Fat (

of which saturates)

0g (

0g)

Carbohydrates (

of which sugars)

100g (100

g)

Fibre

0g

Protein

0g

Salt

0g
Recommend this product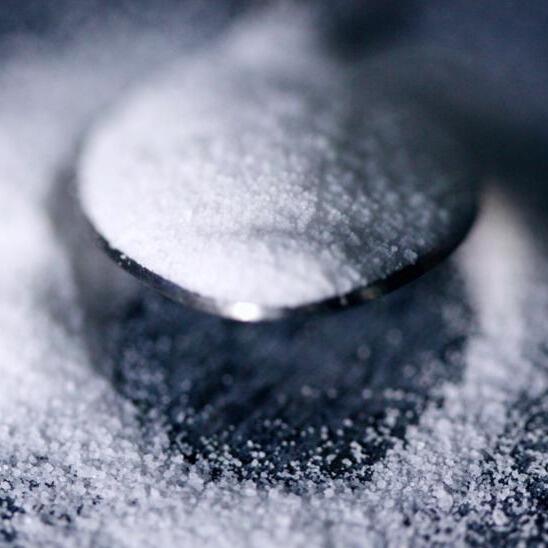 Granulated White Sugar - Organic 200g