Men Tone - Moisturiser 60ml
0 Reviews
raiting star
raiting star
raiting star
raiting star
raiting star
Be the first to review this product.
Men Tone - Moisturiser 60ml
Our nourishing paraben free vegan friendly face cream contains natural Vitamin E (2000ui/100g) for it's moisturising properties with Calendula extract to help smooth your skin.
Perfect for rough, dry and sensitive skin types.
A blend of ingredients that work together to:
Moisturise.
Soothe.
Contains antioxidants to protect against free radicals.
Skin conditioner.
Fragrance Free.


For more information see ingredients section.
Directions:

Use morning or night for 24 hour moisturising.
A little of this product goes a long way and it's made in Pocklington.
NO ANIMAL TESTING
Product tabs
Click & Collect | Delivery Information

Click & Collect - Yes

This product is available to click and collect.

Local Delivery - Yes

This product is available for local delivery subject to our checking your address during checkout.

Mail Order - Yes

This product is available for postal delivery. 

Allergens, Ingredients & Nutritional Information

Baffled by all the big chemical words found in the ingredients list? We investigated what they do and explain what's inside our product in simpler ways.

Aqua: Water.
Caprylic/Capric Triglyceride: Sometimes known as fractionated coconut oil, caprylic or capric triglyceride is widely used in skin products due to its rapid penetration ability. It helps bind moisture to the skin and has a neutral colour and odour.
Cetearyl Alcohol:

Fatty alcohol, sometimes derived from coconuts, with emollient (softening/smoothing) properties for skin.
Known to be gentle and safe (unlike skin-damaging/drying forms of alcohol such as SD or denatured)
Can be used to alter the thickness of a cream or affect the foaming characteristics of a cleanser.
It's a white, waxy solid and often comes as flakes.

Isopropyl Myristate: An emollient

 synthetic oil made from two constituents. The first is isopropyl alcohol, the antimicrobial agent used in some hand sanitizers, baby wipes, and antiseptic formulations. The second is myristic acid, which is a naturally occurring fatty acid often found in coconut oil, nutmeg, and animal fats such as butter (Ours is vegan so does not contain animal derivatives).

Glyceryl Monostearate SE: This is

a fast-penetrating emollient that helps to create a protective barrier on the surface of the skin. This helps retain hydration and slow the loss of moisture. This reduced rate of water evaporation helps to lubricate, condition, soften, and soothe the skin. Its protective properties extend to its antioxidant qualities, which help protect the skin against damage caused by free radicals. The SE suffix means self emulsifying.

Stearic Acid: A saturated long chain fatty acid found in animals and plants. It's an emollient which means it smooths and softens the skin. It also works as a surfactant which means it cleanses the skin. 
PEG-20 Sorbitan Isostearate: Another fatty acid that helps break down surface tension of other ingredients and helps then dissolve in the cream.
D-Alpha Tocopheryl Acetate: It's Vitamin E for the skin. Know for its antioxidant properties. Antioxidants help to protect your body from damaging compounds called free radicals. Normally, free radicals are produced when your body converts food into energy. However, free radicals can also come from UV light, cigarette smoke, and air pollution.
Glycerin: Works as a humectant, a moisturiser, that pulls water into the outer layer of your skin from deeper levels of your skin and the air. After water and fragrances it is probably the most common ingredient used in cosmetics. Interestingly glycerin is "the most effective humectant" in comparison with numerous others whose names may sound familiar. These include alpha hydroxy acids, such as lactic acid and glycolic acid, hyaluronic acid.
Dimethicone: A smoothing agent that helps products be applied to your skin. It fills in fine lines and wrinkles which helps make you makeup look smooth rather than cakey. It also acts as an occlusive barrier that seals in moisture.
Triethanolamine: A non active ingredient that doe's not affect the skin but works to improve the PH (acidity/alkalinity) so cosmetics feel better on your skin, making them more stable and improves texture.
Phenethyl Alcohol: The fragrance. 
Glyceryl Caprylate: Another emollient (Protective skin barrier) and emulsifier that is derived from plants.
Calendula Officinalis: Extract from the Marigold flower works as a skin conditioner. Works as an antioxidant, anti inflammatory and skin wound healer. In addition to reducing inflammations and expediting the healing of wounds, it's also been shown to cure fungal disorders such as Athlete's foot and it adds an attractive fragrance.
Recommend this product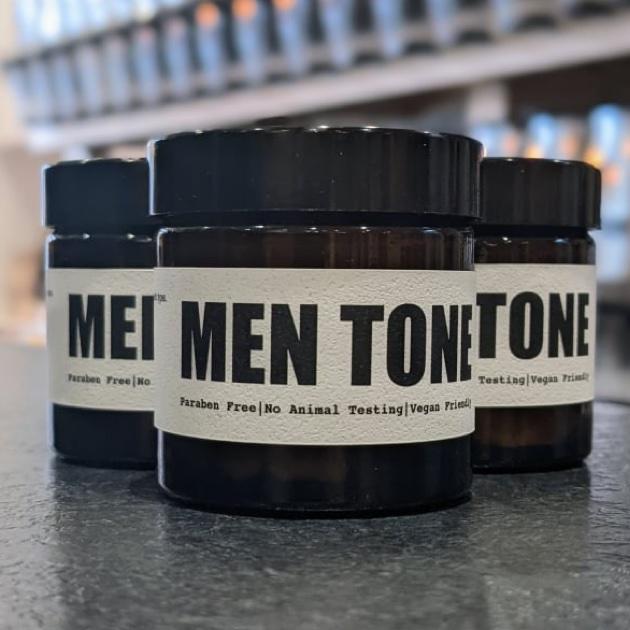 Men Tone - Moisturiser 60ml