Mung Bean And Coconut Curry With Roti - Recipe Bagged
1 Review
raiting star
raiting star
raiting star
raiting star
raiting star
This curry has become a firm favourite in our house and we now have it weekly. We try all the bag idea's and have loved them all. Great idea
raiting star
raiting star
raiting star
raiting star
raiting star
Mung Bean And Coconut Curry With Roti - Recipe Bagged
Mung Bean and Coconut Curry and easy to make Rotis
This easy curry is packed with Indian flavours, coconut milk, coriander and lime. It's easy to make and needs one pan.
Prep Time 20 minutes.
Cook Time 40 minutes.
Total Time 1 hour.
Serves 6.

We have included all the dry ingredients shown in bold. They have been weighed out, bagged and are ready to use. 
Bag 1  = Roti Mix

Bag 2 = Cumin Seeds

Bag 3 = Curry / Spice Mix

Bag 4 = Mung Beans


Anything else is either available in our shop*, your Kitchen cupboard or at another local shop.

Ingredients
Bag 1 - Roti Mix
200g self-raising flour, plus a little extra for dusting
1⁄2 tsp salt
2 tsp Nigella seeds
1 tbsp vegetable oil
100ml water
vegetable oil, for frying

Bag 2 - 1 Tbsp Cumin Seeds
Bag 3 - Curry / Spice Mix
4 Tbsp rapeseed oil* or other neutral-flavoured oil
9 cloves garlic crushed (about 3 Tbsp crushed garlic)
400g Tin chopped tomatoes
4 tsp ginger
2 Tbsp ground coriander
1 tsp turmeric
1 tsp sea salt
1 tsp cayenne pepper
1 litre water
400g Tin of coconut milk
1-2 medium limes juiced
1/2 cup fresh coriander chopped

Bag 4 - 140g Mung Beans
Instructions
Make the roti dough first
Pour the flour, salt and oil into a large mixing bowl.
Make a small well in the centre and pour in the water.
Use your hands to mix the ingredients together and knead until it comes together in a smooth ball of dough.
Cover the bowl with the oiled cling film and set it aside to rest for 20 minutes.

Instructions for curry
In a large pot, heat the cooking oil over medium-high heat.
Add the cumin seeds and cook for about 1 minute, until they just begin to darken.
Add the garlic, and sauté for 3-4 minutes until it has browned, but watch it very carefully so that it doesn't burn.
Add the tomatoes and stir to combine, then add contents of bag 3.
Sauté this mixture for 5 minutes, stirring frequently.
Add some of the water to cover the mung beans. Increase the heat to high and bring the mixture to a boil, then reduce to low, cover, and simmer for 10 minutes, stirring the mixture once or twice. Then add the ramaining water, bring to the boil then simmer for another 20 minutes. You want the mung beans to absorb the water so if they look drowned in water just keep simmering intil the beans are cooked. Taste a few mung beans to make sure they are cooked. If they are... 
Stir in the coconut milk, and increase the heat to medium-high.
Once the curry comes to the boil turn off the heat. 
Stir in the coriander and the juice of one lime. Taste and decide whether you'd like to add the juice from the second lime.

Instructions for rotis
Take the dough out of the bowl and divide it into 8 equal pieces
Dust a clean surface with flour, take a piece of dough and roll it out into a neat, flat circle, as thin as you can get it
Repeat with the remaining pieces
Put the frying pan over a high heat until very hot
Pour 1 teaspoon oil into the pan and swish it around to coat the base
Place a roti in the pan and cook until it starts to bubble, then flip it over and fry the other side for another minute
Transfer to a plate and repeat to cook all the roti
Serve Hot and enjoy. If it's too spicy try adding a little coconut or natural yoghurt.
Note: Purchase includes Bagged Ingredients only
Recommend this product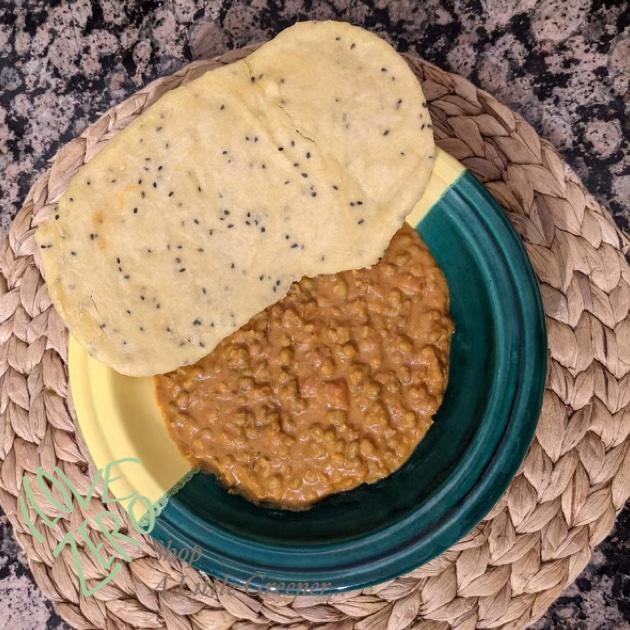 Mung Bean And Coconut Curry With Roti - Recipe Bagged