Beaming Baby - Compostable Nappy Sacks - Box of 30
0 Reviews
raiting star
raiting star
raiting star
raiting star
raiting star
Be the first to review this product.
Beaming Baby - Compostable Nappy Sacks - Box of 30
Beaming baby nappy inserts are GM free and 100% Compostable Cornstarch. Try them and please give us feedback. 
Here's what Beaming Baby say.., 
---
You & Your Baby are Covered by our 365 Day 100% HAPPINESS GUARANTEE!
Made from GM-Free Cornstarch - NO PLASTIC!
Perfect Eco-Friend to Beaming Baby Bio-Degradable Nappies
100% Bio-Degradable and Compostable
Follow-on, Pop-out sacks for Easy Use
Environmentally-Friendly Nappy Disposal
We GUARANTEE that YOUR BABY will be HEALTHIER and HAPPIER with Beaming Baby Essentials than any other baby brand or your money back
Beaming Baby Made From Plants Nappy Sacks

Give YOUR BABY the Healthiest Start to Life

100% COMPOSTABLE in just 6-9 WEEKS! ...
THE HEALTHIEST START TO LIFE
98% of BABIES SUFFER from Nappy Rash, Eczema, Asthma or Sensitive Skin Problems in their first three years of life. Many of these problems can be easily solved by avoiding the HARSH CHEMICALS that the BIG CORPORATIONS insist on putting into standard baby products. Beaming Baby have stripped out these chemicals to ensure that YOUR BABY only comes into contact with the most gentle, natural and organic ingredients.
HOW WILL MY BABY BE HEALTHIER & HAPPIER?
Choosing these Nappy Sacks shows that you care. Together, we will make sure that our PLANET will still be a LOVELY PLACE when YOUR BABY grows up. For clean, easy, ENVIRONMENTALLY FRIENDLY disposal, use with Beaming Baby Organic Wipes and Bio-Degradable Nappies.
Recommend this product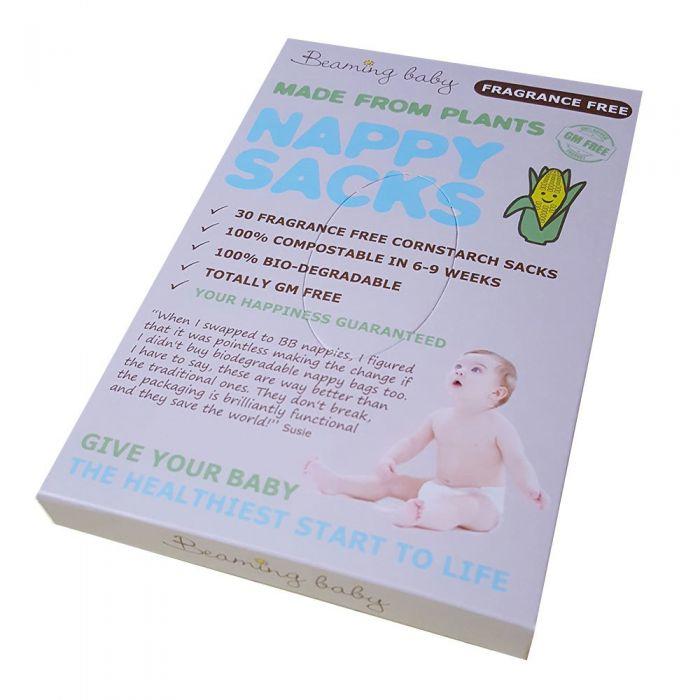 Beaming Baby - Compostable Nappy Sacks - Box of 30