Cosy Cottage - Natural Shampoo Bar - 55g
0 Reviews
raiting star
raiting star
raiting star
raiting star
raiting star
Be the first to review this product.
Cosy Cottage - Natural Shampoo Bar - 55g
Good for your hair, good for your pocket and GREAT for the planet, our popular natural shampoo bars are now available in lavender or lemongrass essential oil fragrances in addition to the fragrance free version. 
The shampoo bars are 100% sulphate free, additive free, palm oil free, cruelty free, plastic free, they're suitable for vegans and 100% natural. All our packaging is plastic free; either fully recyclable cardboard or made from plant derived materials, including our clear bags and bubble wrap, which will compost within a year. 
Shampoo bars are manufactured in small, waste-free batches in the beautiful market town of Malton, Yorkshire in the UK. 
These shampoo bars can help to reduce the 36 million plastic bottles used EVERY DAY in the UK because they completely eliminate the need for plastic packaging. Plastic makes up 80% of the waste found on beaches around the world and over 300,000 tonnes of debris that floats in our oceans.
Each shampoo bar lasts longer than your average bottle of shampoo as water is not added to these products so you will find you do not need anywhere near as much as high street shampoos; a little goes a very long way. 
Natural shampoo bars now come in three fragrance options: 
- The original fragrance-free formulation is extra gentle for sensitive scalps 
- The lemongrass essential oil fragranced variation smells fresh and energising. Lemongrass essential oil is said to balance excess oil production 
-  The lavender essential oil fragranced version smells super-relaxing. Lavender essential oil is said to help with itchy flaky scalp 
You will find you don't need as much product as liquid shampoos to clean your hair. Simply lather the solid shampoo bar in your hands and then apply to your hair as you would a liquid, detergent based shampoo, before rinsing out very thoroughly and repeating.
CARE - NOT SUITABLE FOR NUT ALLERGIES DUE TO USE OF ALMOND OIL.
Product tabs
Click & Collect | Delivery Information

Click & Collect - Yes

This product is available to click and collect.

Local Delivery - Yes

This product is available for local delivery subject to our checking your address during checkout. 

Mail Order - Yes

This product is available for postal delivery. 
Recommend this product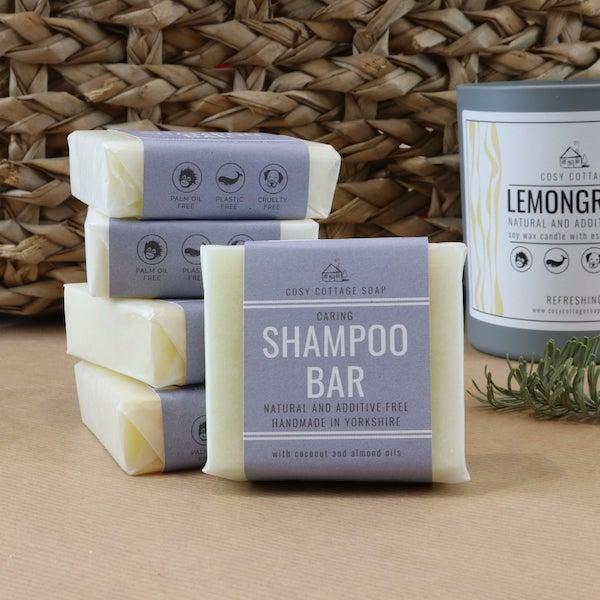 Cosy Cottage - Natural Shampoo Bar - 55g