Cosy Companions - Pet Shampoo Bar - Two Fragrances 95g
0 Reviews
raiting star
raiting star
raiting star
raiting star
raiting star
Be the first to review this product.
Cosy Companions - Pet Shampoo Bar - Two Fragrances 95g
"Naturally repels unwanted guests" 
'Naturally Calms and Soothes' 
Help our furry friends stay clean and healthy with all-natural, plant-derived and palm oil free ingredients, and plastic free packaging. 
As we become more aware of the impact our own skincare products can have on the environment and our skin, we believe it is equally important to consider the environmental impact and wellbeing of our beloved pets. 
These 95g bars contain no plastics, palm oil, detergents (including SLS) artificial fragrances, colourings or artificial additives. 
The pet soap bars help promote a healthy, shiny coat, for our canine friends, and the carefully selected essential oils together with carrot seed oil or neem oil help to promote overall good health. 
LAVENDER, LEMONGRASS AND NEEM OIL - Repels unwanted guests 
Neem Oil - Used for centuries as a flea and tick repellent for both dogs and cats 
Lemongrass Oil - Fresh, citrus aroma, repellent to ticks and fleas 
Lavender Oil - Gentle, antimicrobial, skin and itch soothing, deodorising and relaxing 
CEDARWOOD AND CARROT SEED OIL - Calms and Soothes 
Carrot seed oil - Traditionally used to calm and soothe sensitive skin and has anti-inflammatory properties, with moderate antibacterial effects. 
Cedarwood Oil - Soothing for sensitive, dandruff prone skin, with a calming, gentle aroma 
To use, simply rub a small amount of the pet shampoo into damp hands or a flannel/mitt and massage into wet fur. Alternatively, rub directly onto damp fur. Rinse off with plenty of clean water. 
Please be very careful to avoid your pet's eyes. Tested on humans before deemed suitable for animals!
Product tabs
Click & Collect | Delivery Information

Click & Collect - Yes

This product is available to click and collect.

Local Delivery - Yes

This product is available for local delivery subject to our checking your address during checkout.

Mail Order - Yes

This product is available for postal delivery. 

Allergens, Ingredients & Nutritional Information

Ingredients

This is a Vegan product

CARE RE NUT ALLERGIES - THIS PRODUCT CONTAINS SWEET ALMOND OIL 

Contains: Coconut Oil, Sweet Almond Oil, Olive Oil, Castor Oil, Lavender Oil, Lemongrass Oil and Neem Oil
Recommend this product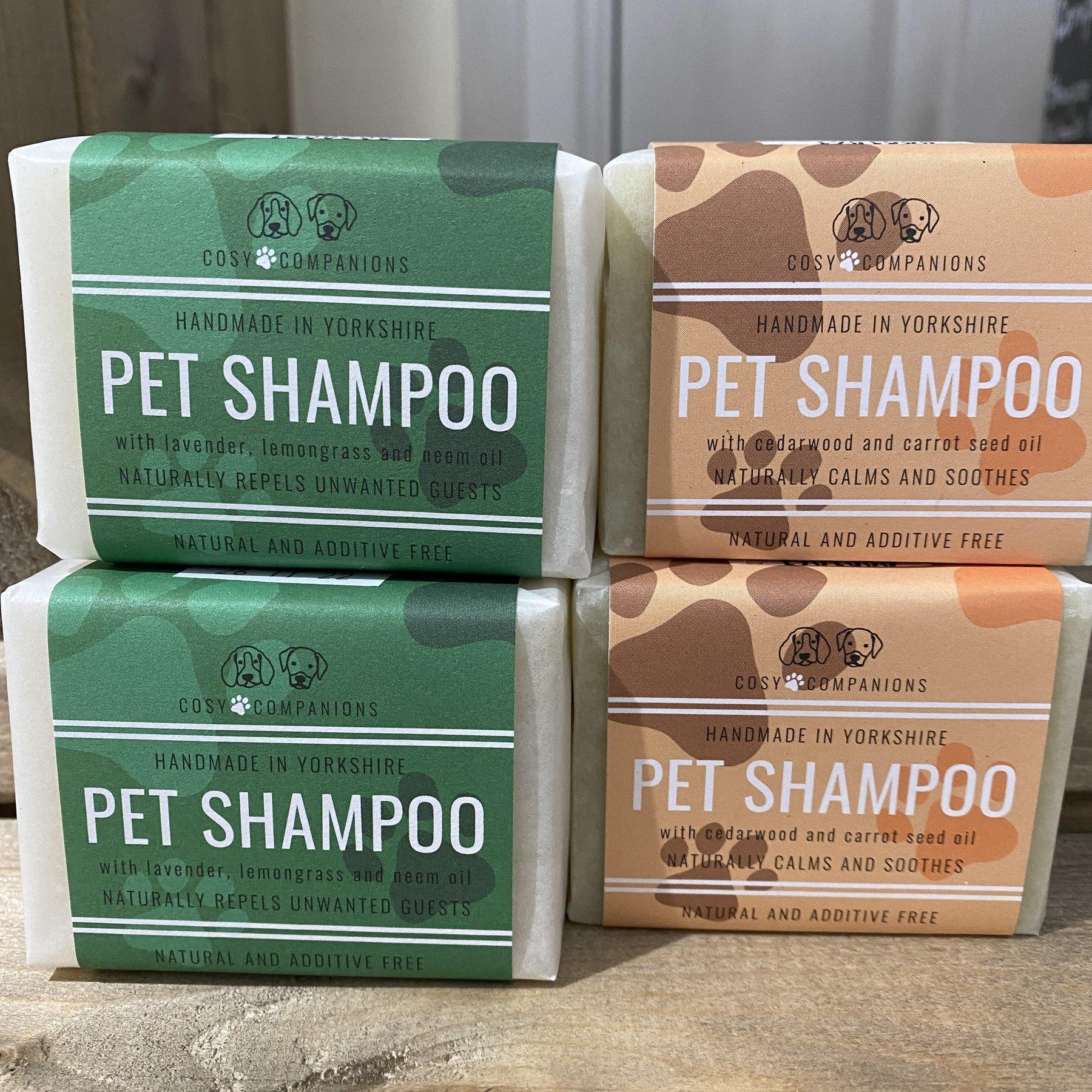 Cosy Companions - Pet Shampoo Bar - Two Fragrances 95g