0 Reviews
raiting star
raiting star
raiting star
raiting star
raiting star
Be the first to review this product.
Prunes Pitted 100g
Whole Pitted* Prunes: 
*Pitted means no stones inside. 
Dried pitted prunes are a great source of dietary fibre and a delicious go-to snack throughout the day. There are a number of health benefits associated with consuming prunes such as improving digestion and providing energy. Although high in natural sugars, do not cause blood sugar levels to spike, which prevents dips in energy 
Benefits 
High in fibre 

Aids digestion 

Rich source of potassium 

High in vitamins such as vitamin K and vitamin A 

Good source of iron 

Reduces sweet cravings Keeps you fuller for longer thanks to the fibre content 
Ways to enjoy organic dried prunes 
Enjoy as a snack 

Add pitted prunes to your morning porridge oats 

Use in organic baking 

Combine with nuts, seeds and other dried fruits for a healthy trail mix 

Try adding to rich stews for a depth of flavour 
Serving size: 6 prunes (50g) has around 135 calories.
Buy in multiples of 100g

Bulk Buy Discounts
Discounted price shown in basket
Recommend this product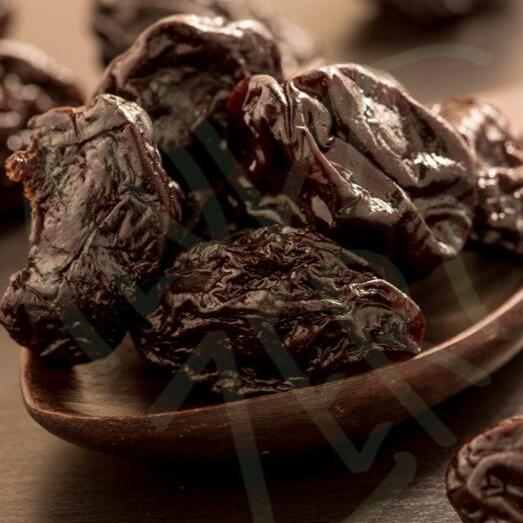 Prunes Pitted 100g