Rose Cleanser with Vitamin E 200ml - Paraben Free
0 Reviews
raiting star
raiting star
raiting star
raiting star
raiting star
Be the first to review this product.
Rose Cleanser with Vitamin E 200ml - Paraben Free
Our Rose Cleanser, or should we say "Rosewater" Cleanser is a gentle and effective cleansing lotion created to help remove all traces of dirt and make-up. 
Containing Vitamin E, Almond Oil, Wheatgerm Oil and 5% Rosewater, it is suitable for all skin types and especially good for sensitive skins.
Paraben Free
Subtle fragrance of 5% Rosewater
Vegan, no animal ingredients, not tested on animals.
No added colourings
For more information see ingredients section.
Directions: 
Use morning and night - Apply using cotton wool and gently wipe over the face and neck as part of your daily skincare regime.
A little of this product goes a long way.
Product tabs
Click & Collect | Delivery Information

Click & Collect - Yes

This product is available to click and collect.

Local Delivery - Yes

This product is available for local delivery subject to our checking your address during checkout.

Mail Order - Yes

This product is available for postal delivery. 

Allergens, Ingredients & Nutritional Information

Baffled by all the big chemical words found in the ingredients list? We investigated what they do and explain what's inside our product in simpler ways.

Aqua: Water.
Glyceryl Stearate: This is

a fast-penetrating emollient that helps to create a protective barrier on the surface of the skin. This helps retain hydration and slow the loss of moisture. This reduced rate of water evaporation helps to lubricate, condition, soften, and soothe the skin. Its protective properties extend to its antioxidant qualities, which help protect the skin against damage caused by free radicals.

Rosa Damascena: Rosewater.
Caprylic/Capric Triglyceride: Sometimes known as fractionated coconut oil, caprylic or capric triglyceride is widely used in skin products due to its rapid penetration ability. It helps bind moisture to the skin and has a neutral colour and odour.
Prunus Dulcis: Almond Oil.
Triticum Vulgare: Wheatgerm Oil.
Phenoxyethanol Ethylhexylglycerin:

Antimicrobial preservative used in cosmetics.

D-Alpha Tocopheryl Acetate: Vitamin E.
Imidazolidinyl Urea: Antimicrobial preservative used in cosmetics.
Sodium Hydroxide: Helps to balance and maintain the pH of the cleanser. It also transform fats and oils into a well mix solution during saponification.
Recommend this product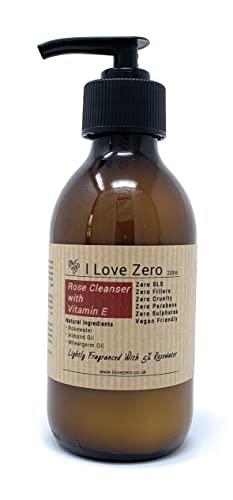 Rose Cleanser with Vitamin E 200ml - Paraben Free