0 Reviews
raiting star
raiting star
raiting star
raiting star
raiting star
Be the first to review this product.
Seed Paper Gift Voucher
Seed Paper Gift Vouchers: £3.00 Each - For In Store Purchases Only. 
Choose the seed paper type for your gift voucher. 

Choose the value of your gift voucher. 

Add to your basket. 
Our seed paper is 250gsm, white in colour and populated with seeds to produce a rustic finish. It has been air dried to give the seeds their best chance of germinating. It is made using residual cotton from the textile industry. 
Each Gift Voucher is 74mm x 105mm (A7) in size. It has our I Love Zero logo and a unique reference number.
To Use Your Gift Voucher: Present the gift voucher in store at time of purchase. Valid for 12 months. 
"Spent it? - Plant it!" 
To Grow Your Seed Paper: Submerge in 5 mm of water and keep in natural light. After a few days or weeks, the seeds will start sprouting. Transfer to a pot with compost and water regularly. Please bear in mind that, as with everything in nature, many factors will come into play. While we cannot guarantee success, your seeds should sprout if looked after properly. 
Seed papers are a more eco-friendly alternative to standard papers. However for maximum eco-friendliness we offer eVouchers. 
eVouchers: For Online Purchases Only. 
eVouchers for online shopping can only be bought online. eVouchers cannot be used in store.
Recommend this product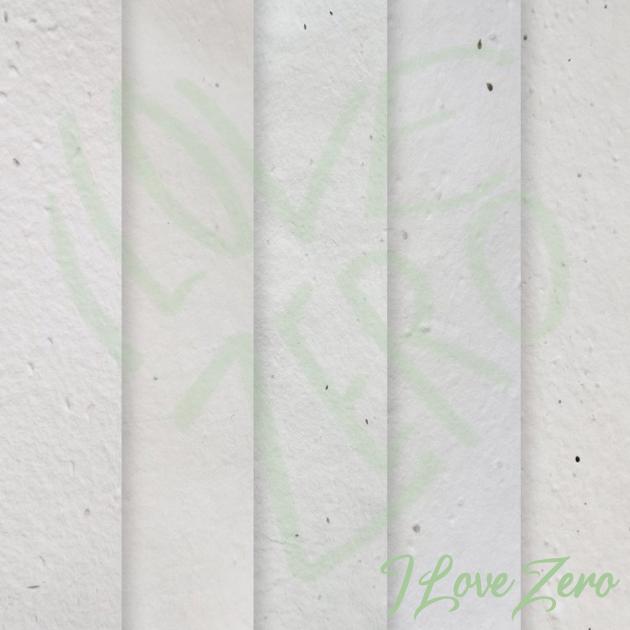 Seed Paper Gift Voucher