Bear and Roo - Soy Wax Candle - Orange Seville - 180ml
0 Reviews
raiting star
raiting star
raiting star
raiting star
raiting star
Be the first to review this product.
Bear and Roo - Soy Wax Candle - Orange Seville - 180ml
---
Bear & Roo Bundle: Save 20%
Buy two or more Bear & Roo Products and save 20%.
---
Our Bear & Roo Orange Scented Candle is a firm favourite with those that like the smell of oranges. Memories of orange groves or lazy mornings. 
This scented candle is made with 100% soy wax which is a sustainable, natural and petroleum free alternative to paraffin wax. Soy wax candles are kinder to the environment while also being safer and cleaner when burning in your home. Soy wax candles do not release any dangerous toxins into the air or leave sooty residue on your walls.
Bear & Roo use cotton wicks which are soy coated before being added to their candles, and their wicks are all perfectly sized to allow for maximum scent throw and burn time, combined with a good potpourri fragrance while the candle is not lit.
The candle is hand poured into a glass amber container which produces a warm relaxing glow when burning.
The burn time on their candles is upto 40 hours. We recommend allowing the melted wax to reach the edges of the container the first time you burn a candle. This will mean that during subsequent burns the melt pool will reach the outer edge of wax, ensuring that all of the wax is used during burning. This is how to avoid 'tunnelling' – the process where candles burn down the middle and leave lots of unused wax (common in paraffin candles due to their higher melting point) 
All Bear & Roo candles are suitable for vegans and vegetarians 
Product tabs
Click & Collect | Delivery Information

Click & Collect - Yes

This product is available to click and collect.

Local Delivery - Yes

This product is available for local delivery subject to our checking you address during checkout.

Mail Order - Yes

This product is available for postal delivery. 
Recommend this product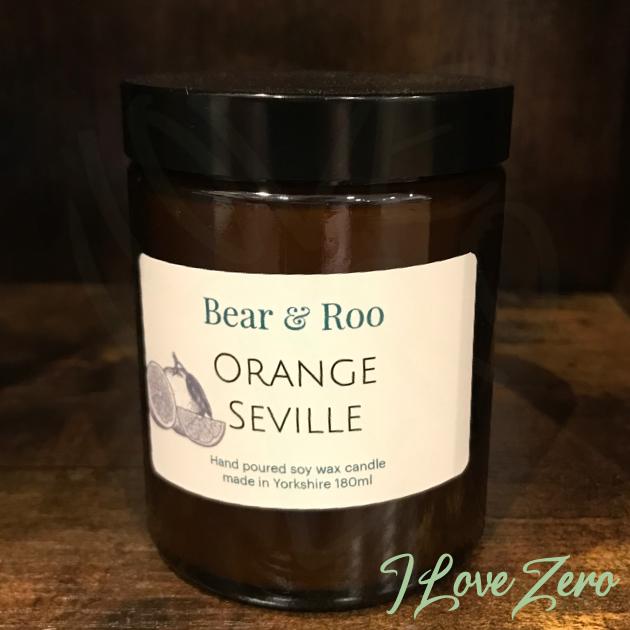 Bear and Roo - Soy Wax Candle - Orange Seville - 180ml