0 Reviews
raiting star
raiting star
raiting star
raiting star
raiting star
Be the first to review this product.
Whole Pitted Dates 100g
Whole Pitted* Dates: 
*Pitted means no stones inside. 
These dates are nature's sweet treats. They are sweet, juicy and have a dreamy caramel texture and flavour. Dates can be enjoyed as a sweet snack to satisfy those cravings and can be used in baking or to sweeten healthy hot chocolates. 
Benefits of whole pitted dates 
Nature's sweets 
Delicious caramel flavour 
Curb a sweet a tooth 
High fibre Low in fat Pitted (de-stoned) 
Ready to eat 
Low GI Packed with minerals, vitamins and various healthful properties 
Ways to enjoy 
Enjoy as a sweet snack 
Whizz in a blender with almond milk and a teaspoon of carob powder for a naturally sweet, healthy hot chocolate.
Add to smoothies for natural sweetener 
Use to make healthy energy balls and roll in desiccated coconut 
Use in baking for a great replacement for caramel centres such.
Think outside the box and make sweet hummus 
Add to granola recipes to sweeten
Don't throw them out if they start to look white!!!
Dates, packing lots of sugar and relatively little moisture, are generally quite shelf stable. But if they're stored for too long and exposed to lots of changes in temperature and humidity, their surfaces can develop a white and crusty landscape. 
Such "sugaring" or "sugar bloom" can also show up on raisins, particularly on the ridges of the wrinkles.
You can even revive dried out dates and eliminate the sugaring at home. A little water soak will help, possibly with a little heat from the cooker. But don't let them boil.
To extend the live of your dates keep them in your fridge. You can even freeze them if you think you won't need them for some time.

Buy in multiples of 100g
Recommend this product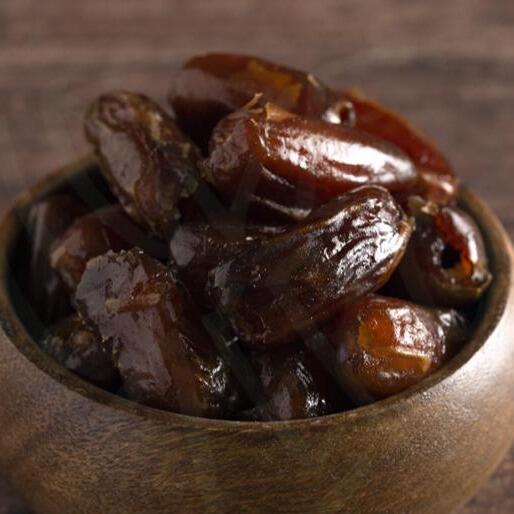 Whole Pitted Dates 100g