Yorkshire Rapeseed Oil (500ml refill)
0 Reviews
raiting star
raiting star
raiting star
raiting star
raiting star
Be the first to review this product.
Yorkshire Rapeseed Oil (500ml refill)
Award Winning Yorkshire Rapeseed Oil has a beautiful delicate flavour ideal for all your culinary needs. The seed we press is grown on the chalky soils of the Yorkshire Wolds giving our oil its distinctive nutty flavour.
With a high burn point our oil is an ideal frying oil, also lending itself to pastries, baking, roasting and much more.
Awarded Two Gold Stars at the 2013 Great Taste Awards. They said, "A beautiful deep golden colour with a light grassy aroma. Lovely smooth texture with neutral tones. A wonderful product to use as a carrier which wouldn't detract from other flavours."
It's made locally, near Thixendale and we're happy to be offering this as a refill to our customers. Even the delivery from their farm to our shop is closed loop with our reusing their delivery containers. Nice work Breckenholme!
Ingredients & Nutritional Info 

100% Cold Pressed Rapeseed Oil
Suitable for Vegetarians, Vegans, Gluten Free
100% GM Free

Once opened store in a cool dry place. Do not refrigerate. Keep away from direct sunlight.
Product tabs
Click & Collect | Delivery Information

Click & Collect - Yes

This product is available to click and collect. Choose your loop bottle requirements...

Exchange: Choose this if you are returning your empty loop bottle when you come to collect your order.

Or

Aluminium Bottle Required: Choose this option and we will provide a filled 500ml aluminium loop bottle complete with pump dispenser. Once empty return it to us in exchange for another 500ml aluminium loop bottle. A £2.00 deposit is required.




Local Delivery - Yes

This product is available for local delivery subject to our checking your address during checkout. It will be delivered in a 500ml aluminium loop bottle.

Mail Order - No

This product is not available for postal delivery.

Notes:

For hygiene reasons we only deliver liquids in, and accept liquids, in our own 500ml aluminium loop bottles.
All exchanged loop bottles are thoroughly cleaned and sanitised in store.
Exchanged loop bottles may show signs of use.
When purchasing in store you can bring your own containers and fill them with any quantity you choose.
Recommend this product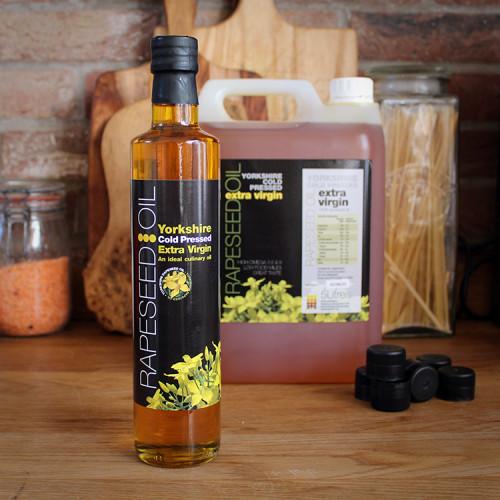 Yorkshire Rapeseed Oil (500ml refill)