Foamable Oatly Oat Drink - barista-style
0 Reviews
raiting star
raiting star
raiting star
raiting star
raiting star
Be the first to review this product.
Foamable Oatly Oat Drink - barista-style
The Barista Edition Oat Drink is based on liquid oats which means it isn't overly sweet or excessively heavy. It's fully foamable putting you in total control over the density and performance of your foam - just heat in a container while giving it a whirl until it foams up nicely and then pour. It's great with granola too.
Product tabs
Click & Collect | Delivery Information

Click & Collect - Yes

This product is available to click and collect.

Local Delivery - Yes

This product is available for local delivery subject to our checking your address during checkout.

Mail Order - Yes

This product is available for postal delivery. 

Allergens, Ingredients & Nutritional Information

Ingredients

Oat Base (Water, OATS 10%), Rapeseed Oil, Acidity Regulator (Dipotassium Phosphate), Calcium Carbonate, Calcium Phosphates, Salt, Vitamins (D2, Riboflavin and B12).




Suitable for vegetarians & vegans. Dairy Free

Nutritional Values

Typical Values

per 100ml

Energy

247 kj / 59

 kcal

Fat (

of which saturates)

3g (0

g)

Carbohydrates (

of which sugars)

6.6g (4.0

g)

Fibre

0.8g

Protein

1g

Salt

0.1g

Vitamin D (

µg)

1.1

Riboflavin (B2) (mg)




0.21

Vitamin B12 (mg)




0.38

Calcium (mg)




120

Phosphorous (mg)




110

Iodine (

µg)




22.5
Recommend this product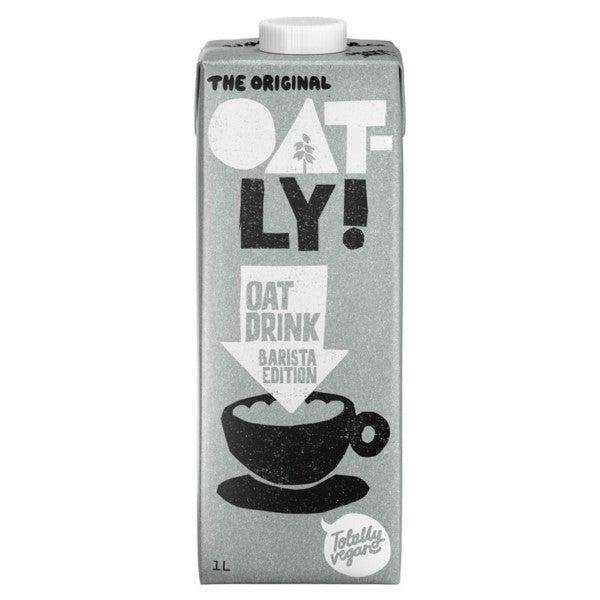 Foamable Oatly Oat Drink - barista-style