Beauty Bites - Recipe In A Bag
0 Reviews
raiting star
raiting star
raiting star
raiting star
raiting star
Be the first to review this product.
Beauty Bites - Recipe In A Bag
You are what you eat (so they say) and these Beauty bites and these are a variation on our energy balls.
Ingredients



Bag 1 - 50g cashew nuts

Bag 2 - 100g dates

Bag 3 - 50g mixed seeds and fruit (organic cacao nibs, organic sunflower seeds, organic pumpkin seeds, organic raisins, organic sultanas, organic goji berries, organic cranberries sweetened with apple juice, organic hemp seeds)

Bag 4 - Pinch of cinnamon & Pinch of ginger

From I Love Zero




2 tbsp coconut oil

3 tbsp agave syrup

2 tbsp peanut butter




Makes approximately 16 beauty bites
There are lots of variations of  edible balls. These are a variation of a couple of recipes. I made them specifically with "feeding the skin from within" in mind.  They are great way to refuel and nourish the body and are a healthy snack. 

Method
Using a food processor (or a rolling pin) blend the cashew nuts (Bag 1) until they are a mixture of tiny pieces and powder. Put into a bowl.
Place the dates (Bag 2) into a blender and break down into small pieces. (You might want to soak the dates in a bowl covered in warm water from the kettle prior to blending. You can use the water as a date syrup)
Melt the coconut oil in a pan or in the microwave. Stir in the agave and peanut butter.
Pour the coconut oil, peanut butter and agave mixture over the dates and add bag 4. Blend to make a paste.
Tip date mixture into cashew nuts, add (Bag 3). Stir to combine all the ingredients. It needs to be sticky and make a "dough" when pushed between your fingers.
Scoop the dough by heaping tablespoons, then roll between your hands to form balls. 
Arrange them on a baking sheet lined with parchment paper.
 Place in the fridge or freezer to set for at least 30 minutes before serving.
Store the balls in a sealed container in the fridge for up to a week.
They are suitable for freezing so you could keep some in the freezer for an even longer shelf life.
Note: Purchase includes Bagged Ingredients only
Recommend this product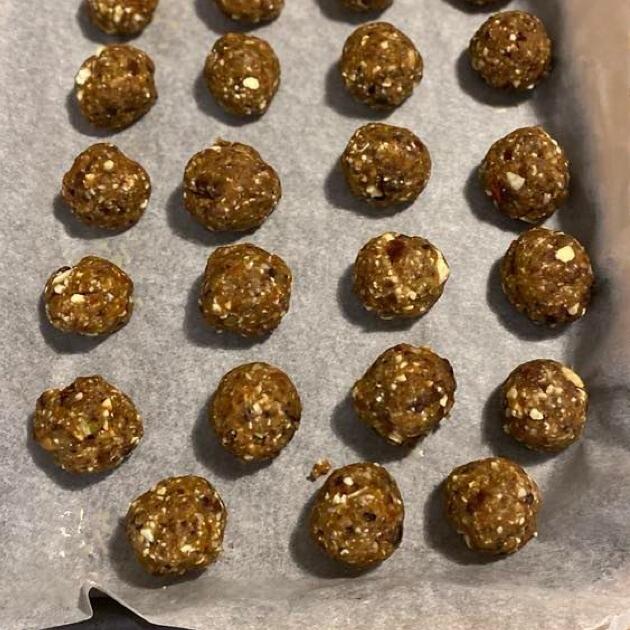 Beauty Bites - Recipe In A Bag